Every Wednesday, from 03/01/2023 to 03/29/2023, 6 PM - 8 PM
LENT WEDNESDAY Worship and Dinner

Everyone is welcome to attend!
Dinner at 6 pm and worship at 7 pm.
Nursery is Available.
Sign up for Faith Kids Choir Practice during worship.
Dinner Menu:
March 1: Penne pasta w/ meat sauce, garlic bread, salad, green beans, cookies/cupcakes
March 8: Breaded chicken tenders, waffle fries, salad, mixed vegetables, cookies
March 15: Salad, spaghetti, and meatballs, dessert
March 22: Smothered chicken, garlic bread, potatoes, salad, corn, cookies/cupcakes
March 29: Breakfast for Dinner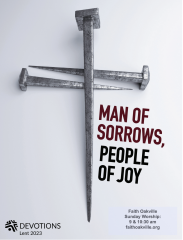 If you're looking for a devotional for Lent that you can read and discuss with your friends, family, or Life Group, you can pick up a copy at the Info Desk in the lobby or download a copy here.